About a year ago, I decided to lose some weight with the Rock Band Exercise program.  In short, Rock Band on Expert Drums will totally and completely kick your ass.  Along the way to losing about 40 pounds, I gold starred 400 songs.  Yay, me.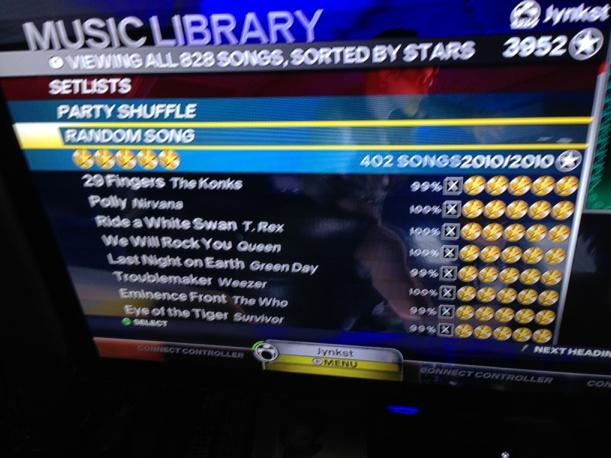 Well, most of those pounds found their way back on me, and I have some time to kill while I seek out funding and/or jobs, so I've been picking the drums back up.  I decided a good place to start would be to re-gold star the songs I'd gold-starred in the past (gold-star is above '5-stars' and means 'near perfect' on most songs).  So far my hit rate is… not good.  About 40% of the songs, I'm able to gold star again.  The other 40% will take me getting back into fighting shape.  Some percentage of that, I have no idea how I beat it the first time through.
But there's some joy in there as well: the Stephen Seagal moment that Bad Romance gave me.  Yes, for a long while, Lady Gaga's best song was my great white whale.  It had one tricky drum part that made it trivial to 5-star, but almost impossible to defeat.  It was on my list of songs to beat for some 5-6 months, as I kept getting closer and closer to the desired score, but not hitting it.  Beating it was difficult, grueling, and rewarding in a bloody and bruised sort of way, like the ending to The Karate Kid.
Well, now, well out of practice, I just obliterated it.  Played it once, it clicked, then followed up immediately and decimated it.  No Ralph Macchio here, this was more like Stephen Seagal in Under Siege 2.  (Spoilers!) The movie goes to great lengths to convince you that a major fight is coming up and, when it finally happens, Stephen Seagal finishes what he started in about 10 seconds.  It was an ultimate display of mastery.  It was a brutal beatdown.  And it perfectly describes the feeling that was just crushing Lady Gaga's gauntlet.
The Stephen Seagal moment is often used in games as a way to display progress.  RPGs do it all the time clumsily, by sending you back to areas you have levelled past, just to demonstrate your growth to yourself and the world.  So do games like God of War – a Minotaur Boss may be a grueling fight at the end of act 1, but once you've unlocked some more health and attacks, the game has no qualms about throwing them in multiples, or as part of larger waves.  It truly gives a great sense of your own personal growth.
But even that is somewhat artificial, hand-crafted by the designer.  In skill-based games like Rock Band or Mortal Kombat, such moments are even more magical.  Because you, as the player, have to earn them.
So screw you, Lady Gaga, you're my white whale no more.  Your Bad Romance is in my rear view mirror, and that feels pretty good.
However, I simply cannot at this time see a reality where I figure out how I ever beat Duran Duran again.