If you don't know who Milo Yiannopoulos is, you should consider yourself lucky.  I admit, I was initially fooled by his cool, cultured accent when he interviewed me for his Podcast in the early days of the debacle that would be GamerGate.  In truth, he is the Liberace of Manufactured Outrage, a bullshit merchant of the highest order.  He is also, ironically, a professional victim, adept at getting himself in trouble by being a total asshole, and then hamming it up to get clicks.
Ironically, given that he's an e-celeb for GamerGate, he's also a deeply inethical journalist working for Breitbart, a magazine so unethical it makes the National Enquirer look like the Wall Street Journal.
He's also a key reason why the game industry cancer known as #GamerGate ceased to meaningfully be about game journalism or, typically, even about games at all.  Not that it was much early on, but he's a huge part of why it veered into sheer right-wing thin-skinned outrage politics. After spending years mocking gamers as weirdos in yellowing underpants, he became a convert when he realized that GamerGate was, in fact, populated significantly by exactly the sort of toxic idiots that buy into his broken philosophy.
That philosophy is just a war on 'political correctness'.  Of course, in an attempt to rub his stink on it, he and a couple of his colleagues tried to reclaim the tired old premise of 'political correctness' and rename the cause 'cultural libertarianism', probably because they realized that a whole bunch of kids get high, read Ayn Rand in college and think they're libertarian before they realize that, at its core, what passes for libertarianism this day is the simple promise to try to remain an asshole as frequently as possible at all time.
He said so much in an article just before the break, where he proudly boasts about being an asshole – you know, for FREEDOM.  One thing he boasts about is getting suspended by Twitter, which required breaking the terms of service – most likely for targeted and directed harassment, but given his behavior, there is so many good reasons it could have occurred.
#BestMemoriesOf2015 #FeminismIsCancer pic.twitter.com/QKpDCoRAia

— Milo Yiannopoulos ✘ (@Nero) December 31, 2015
Despite Milo's boasting about how awesome this is, this quickly turned sour. Twitter has a checkmark that they grant to people who are recognized celebrities – probably because they grew tired of assholes fucking with other people by pretending to be Anne Hathaway. Well, Milo had one. I say 'had' because Twitter apparently has a policy of removing this blue tick from anyone who breaks their terms of service, probably in an attempt to dissuade so-called celebrities from abusing their status by encouraging their followers to harass other users of twitter. Which I stress, is definitely the case here.
Anyway, Twitter took his checkmark away. I have some exclusive footage of his response.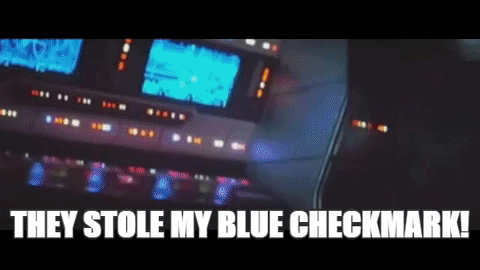 Seriously, he's been having a tantrum about this for a week now.
Now, I don't know that I agree with those who say that just taking a checkmark away is going to solve anything.  It's much more likely that this is merely a warning shot, and a first step towards a banning if he keeps doing what he's doing.  His issue is that while he has declared that he is going to do everything in his power to be an asshole (and again, BOASTING about getting kicked off of Twitter for his efforts), then that's going to run against the philosophy of Twitter, who has realized that their platform sucks at dealing with harassment, and that people as high as the CEO is convinced this needs to change.  It doesn't help that Milo has a habit of taunting the people his followers decide to torment.  A couple of people have provided more insight on this tantrum, but why bother.  It's just a tantrum.  That doesn't stop his colleagues at Breitbart from hysterically trying to link this tempest in a teacup to a drop in Twitter's stock price.
The funny thing is the people who still cry censorship.  It's almost as if these self-styled libertarians don't realize that Twitter is both a private business as well as a private publishing platform.  They have no reason to allow an abusive megalomaniac abuse their other users, nor do they have to feel compelled to give them a microphone.  Milo has made it clear that his goal is to weaponize Twitter to encourage his followers to harass, badger and terrorize people who don't share his worldview.  Unsurprisingly, Twitter is signaling that that's not how they want their platform to be used and perceived.